Mini Scotch Quail Eggs - simply divine.
Ingredients:

12 quail eggs
1 cup flour
1 cup panko crumbs
1 large egg
3/4 cups hot Italian sausage or sausage of choice (casings removed)*
vegetable oil (for frying)
mustard
Instructions:

Fill a pot 2/3 full of water and bring to a gentle boil. Gently add the quail eggs and continue to boil for 4 minutes for hard boiled eggs. Remove the eggs from the boiling water with a slotted spoon and immediately plunge the eggs into ice cold water. Peel when cold.
Place flour in a wide shallow bowl and panko in another wide shallow bowl. Divide sausage into 12 equal portions. Pat 1 portion of sausage into a thin patty over the length of your palm. Lay an egg on top of sausage and wrap sausage around egg, sealing to completely enclose. Repeat with remaining sausage and eggs.
Whisk your large egg in a medium bowl to blend. Working gently with 1 sausage-wrapped egg at a time, dip eggs into flour, shaking off excess, then coat in egg wash. Roll in panko to coat. DO AHEAD: Can be made 1 day ahead. Keep refrigerated, uncovered.
Attach a deep-fry thermometer to side of a heavy pot. Pour in oil to a depth of 2" and heat over medium heat to 375°F. Fry eggs, turning occasionally and maintaining oil temperature of 350°F, until sausage is cooked through and breading is golden brown and crisp, 5–6 minutes. Use a slotted spoon to transfer eggs to paper towels to drain. Season lightly with salt and pepper. Serve warm with mustard.
Quail Egg Stuffed Mushrooms: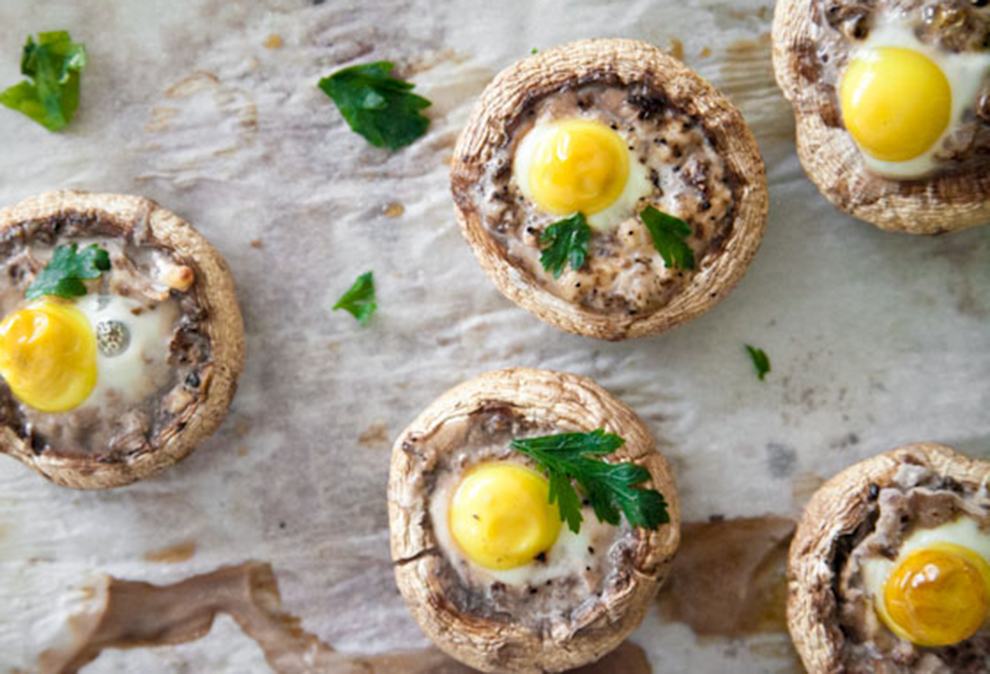 Ingredients:
5 mushrooms caps
5 quail eggs
2 tablespoon cheese, grated
salt, papper
2 teaspoons parsley
1 teaspoon olive oil
Instructions:
Rinse mushrooms thoroughly.
Carefully remove the stems to keep mushroom caps.
Put the caps on the baking tray previously slightly greased with olive oil.
Add cheese and parsley, crack a quail egg into each champignon cap. Sprinkle with salt and papper.
Place into the preheated 180C oven and bake for 15 minutes.
For more Quail Egg recipes check out www.yummly.com/recipes/quail-eggs